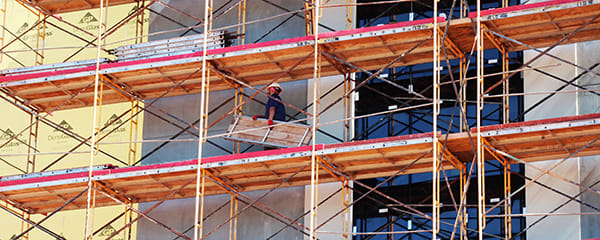 **This page updated January 2020.
On Tuesday, Aug. 26, 2014, voters in the Putnam City school district approved a $120 million bond proposal to increase student safety, maintain and improve school buildings, ensure that students attend classes in well-equipped learning environments and strengthen school communities. As a result, funds were made available to allow Putnam City Schools to undertake 170 projects across the district.
The largest item included in the bond proposal was the cost of replacing the aging Capps Middle School. Student and staff safety was a big item in the bond proposal, too, with funds targeted toward construction of tornado safe rooms at nine schools. Voter approval of the bond proposal gave the district its first chance to have funds to begin constructing shelter space inside schools or adding on new rooms that can double as safe rooms.
The bond proposal was also big on basics, including funds for textbooks at all schools, computers and other technology for each school, remodeling of restrooms at 16 schools to meet standards of the Americans with Disabilities Act, renovating science rooms at all three high schools, roof replacement and replacement of flooring materials at a number of schools and purchase of new musical instruments and school buses.
The first release of bond funds came in January 2015. Bond funds are issued to the district in yearly increments, meaning funding was or will be available for other projects in 2016, 2017, 2018, 2019 and 2020. In some cases where funding was available, projects have been tackled earlier than originally scheduled. Below are specifics on what projects are complete, in progress or still to come.
Fund Release 1
January 2015
Complete
New media center/storm shelter at Lake Park Elementary

New media center/storm shelter at Windsor Hills Elementary

New early childhood education center/storm shelter at Hilldale Elementary School

New roof, heating and air-conditioning unit replacement at Rollingwood Elementary School
Complete
Purchase of property for a new Capps Middle School

Installation of softball bleachers and fencing at Cooper Middle School

Replacement of sewer line and relocation of gas meter at Hefner Middle School
Complete
Re-roof remaining portions of first floor at Putnam City High School
Complete
In Progress
Safety and security

Technology

Roof maintenance

Paving

Fine art/athletics uniforms

Musical instruments

Student desk and chairs

Flooring

Food services equipment

Heating and air-conditioning repair and replacement
Fund Release 2
January 2016
Complete
New stage curtains at Kirkland Elementary

New stage curtains at Northridge Elementary

Replacement of chipped, bubbling gym floor with durable synthetic surface at Rollingwood Elementary

Kitchen renovation at Western Oaks Elementary

Playground resurfacing at Lake Park Elementary

New walk-in freezer and refrigerator at Northridge Elementary

Repaving of west parking lot at Kirkland Elementary

New stage lighting and sound system at Kirkland Elementary

New stage lighting and sound system at Rollingwood Elementary

New stage lighting and sound system at Tulakes Elementary

New stage lighting and sound system at Windsor Hills Elementary
Complete
Hallway renovation at Hefner Middle School

New roof at Mayfield Middle School

Exterior restoration at Mayfield Middle School

Kitchen renovation at Western Oaks Middle School

New kitchen roof at Hefner Middle School

New roof over auxiliary gym at Western Oaks Middle School
Complete
Security fence at Putnam City West

New roof for science building at Putnam City High School

Football field improvements at Putnam City North

Football field improvements at Putnam City West

Gym renovation at Putnam City High School
Scheduled Summer 2020
Renovation of stadium locker areas that serve football, soccer, track at Putnam City High School
Complete
In Progress
Safety and security

Technology

Roof maintenance

Paving

Fine art/athletics uniforms

Musical instruments

Student desk and chairs

Flooring

Food services equipment

Heating and air-conditioning repair and replacement
Fund Release 3
January 2017
Complete
Replace stage curtains at Ralph Downs Elementary

Drainage improvements at Hilldale Elementary

Bleacher replacement at Hilldale Elementary

Replace stage curtains at Hilldale Elementary

Replace stage curtains at Lake Park Elementary

Replace stage curtains at Northridge Elementary

Replace stage curtains at Tulakes Elementary

Replace stage curtains at Wiley Post Elementary

Replace stage curtains at Will Rogers Elementary

Replace stage curtains at Windsor Hills Elementary

Construct parking lot at front of Tulakes Elementary

Drainage improvement at Kirkland Elementary School

New elevator controls at Northridge Elementary

Bleacher replacement at Kirkland Elementary School

Bleacher covers at Lake Park Elementary

Bleacher replacement at Northridge Elementary

Bleacher replacement at Tulakes Elementary

Bleacher replacement at Windsor Hills Elementary

New sidewalk on east side of Wiley Post Elementary
Scheduled Summer 2020
New permanent walls to replace partitions at Northridge Elementary

Electrical upgrade and intercom at Tulakes Elementary

Replace three sets of doors and windows at Wiley Post Elementary
Complete
Replace stage curtains at Mayfield Middle School
In Progress
Begin construction of new Capps Middle School (to include storm shelter)
Complete
New baseball press box/new dugouts for baseball and softball at Putnam City North
Complete
In Progress
Safety and security

Technology

Roof maintenance

Paving

Fine art/athletics uniforms

Musical instruments

Student desk and chairs

Flooring

Food services equipment

Heating and air-conditioning repair and replacement
Fund Release 4
January 2018
Complete
Replace stage curtains at Apollo Elementary

Replace stage curtains at Coronado Heights Elementary

Replace stage curtains at Rollingwood Elementary

Bleacher replacement at Coronado Heights Elementary

Bleacher replacement at James L. Dennis Elementary

Bleacher replacement at Rollingwood Elementary

Water line replacement at Coronado Heights Elementary

Rest room renovation at James L. Dennis Elementary
Still to Come
New doors and windows at Apollo Elementary -Scheduled Summer 2020

Rest room renovation at Coronado Heights Elementary -Scheduled Summer 2020

Playground resurfacing at James L. Dennis Elementary -In Progress

Water line replacement at Rollingwood Elementary
Complete
Heating and air unit replacement for Hefner kitchen

Cafeteria renovation at Hefner Middle School

Storm shelter at Cooper Middle School
Still to Come
Rest room renovation at Hefner Middle School Scheduled Summer 2020
Still to Come
Replace exterior doors and windows at Putnam City North

New weight room and storm shelter at Putnam City North High School - In Progress
Complete
In Progress
Safety and security

Technology

Roof maintenance

Paving

Fine art/athletics uniforms

Musical instruments

Student desk and chairs

Flooring

Food services equipment

Heating and air-conditioning repair and replacement
Fund Release 5
January 2019
Complete
Replace stage curtains at Harvest Hills Elementary

Bleacher replacement at Harvest Hills Elementary

Bleacher replacement at Overholser Elementary

Bleacher replacement at Western Oaks Elementary

Install bleacher covers at Wiley Post Elementary

Acoustical treatment for Windsor Hills Elementary cafeteria

Add door from main foyer to cafeteria at Overholser Elementary

Rest room renovation at Harvest Hills Elementary

New heating and air units for gymnasium at Overholser Elementary

New heating and air units clinic and office at Wiley Post Elementary
In Progress
Storm shelter at Ralph Downs Elementary
Still to Come
Rest room renovation at Apollo Elementary Complete

Rest room renovation at Rollingwood Elementary Scheduled 2020

Construction of new car loop on school grounds to remove congestion from surrounding streets at Apollo Elementary

Security door at Ralph Downs Elementary Complete

Security lighting at Ralph Downs Elementary Complete

Replacement of carpet in library media center, front entrance gallery at Ralph Downs Elementary Complete

Rest room renovation at Overholser Elementary Complete

Pave school walking track at Overholser Elementary scheduled Summer 2020

Electrical upgrade at Wiley Post Elementary

Electrical upgrade at Will Rogers Elementary

Resurfacing of playground and east parking lot at Will Rogers Elementary Scheduled Summer 2020
Complete
Replace stage curtains at Western Oaks Middle School

Install bleacher covers at Mayfield Middle School

Install bleacher covers at Western Oaks Middle School

Heating and air units in east wing of school at Mayfield Middle School
Still to Come
Rest room renovation at Mayfield Middle School Scheduled Summer 2020

Rest room renovation at Western Oaks Middle School Scheduled Summer 2020
Complete
Brighter, more energy-efficient lighting for tennis courts at Putnam City North

New wind screens for tennis courts at Putnam City North

Lighting improvements for Performing Arts Center at Putnam City North

Create new gymnasium entrance and storm shelter on north side of Putnam City High School

Renovation of visitor basketball locker rooms at Putnam City High School.

Upgrade of electrical system at Putnam City West

New, more efficient lighting at Putnam City West
Still to Come
Rest room renovation at Putnam City High School In Progress

Remove old kitchen to transform two cafeterias into one at Putnam City High School Scheduled Summer 2020

New permanent walls to replace partitions in pods at Putnam City North

Performing Arts wing addition/storm shelter at Putnam City North

Create new gymnasium entrance on west side of Putnam City West In Progress

Renovation of science rooms at Putnam City West
Still to Come
Construct Centennial Center for teacher professional development, administrative offices
Complete
New roofing under the cooling tower at Putnam City Center
Complete
In Progress
Safety and security

Technology

Roof maintenance

Paving

Fine art/athletics uniforms

Musical instruments

Student desk and chairs

Flooring

Food services equipment

Heating and air-conditioning repair and replacement
Fund Release 6
January 2020
Complete
Replace main water line at Windsor Hills Elementary School

Replace carpet in hallways at Tulakes Elementary with quiet, no-skid, no cleaning, no wax solid surface floors

Electric upgrade at James L. Dennis Elementary

Rest room renovation at Northridge Elementary
Still to Come
New doors and windows at James L. Dennis Elementary Scheduled Summer 2020

Replace glass panels with aluminum panels at Harvest Hills Elementary Scheduled Summer 2020

Construction of permanent walls to replace classroom partitions at Lake Park Elementary

Reface folding partitions at Northridge Elementary In Progress

Rest room renovation at Wiley Post Elementary Scheduled Summer 2020

Rest room renovation at Windsor Hills Elementary Scheduled Summer 2020

Rest room renovation at Western Oaks Elementary Scheduled Summer 2020

Construct a car loop at Overholser Elementary to reduce traffic congestion on streets near the school
Complete
Renovation of running track and construction of football storage building at Cooper Middle School

New exit and emergency lights at Hefner Middle School

Move electrical gear out of basement at Mayfield Middle Schoo
Still to Come
New flooring for classrooms at Hefner Middle School Scheduled Summer 2020

New exit and emergency lights at Hefner Middle School

Replace elevator equipment at Western Oaks Middle School Scheduled Summer 2020
Complete
New elevator in Science Building at Putnam City High School

New elevator controls in main building at Putnam City High School

Stage rigging upgrade Putnam City West

Additional dimmer panel/electrical re-circuit for PAC at Putnam City North

New Water Service at Putnam City North

New Water Meter and Associated Plumbing at Putnam City High School Complete
Still to Come
Flooring at Putnam City High School

Renovate Old Kitchen to Cafeteria Space at Putnam City High School Scheduled 2020

Relocate Kitchen to East Commons Area at Putnam City High School Scheduled 2020

HVAC RTU's, Boilers and Controls at Putnam City High School In Progress

Science Room Renovations at Putnam City High School

Renovate Restrooms at Putnam City North

Science Room Renovations at Putnam City North

Cafeteria Expansion / Storm Shelter and Serving Line Renovation at Putnam City West - In Progress

Renovate Restrooms ADA Putnam City West

Renovate Media Center / Counsel. Office Remodel Putnam City West

Extension of East Lot to Back of House Putnam City West Scheduled Summer 2020

Renovate Existing Basketball Locker Room Putnam City West In Progress
Still to Come
Convert district administration building into an Early Childhood Center for pre-kindergarten students
Complete
In Progress
Safety and security

Technology

Roof maintenance

Paving

Fine art/athletics uniforms

Musical instruments

Student desk and chairs

Flooring

Food services equipment

Heating and air-conditioning repair and replacement