PUTNAM CITY DISTRICT ATHLETIC HALL OF FAME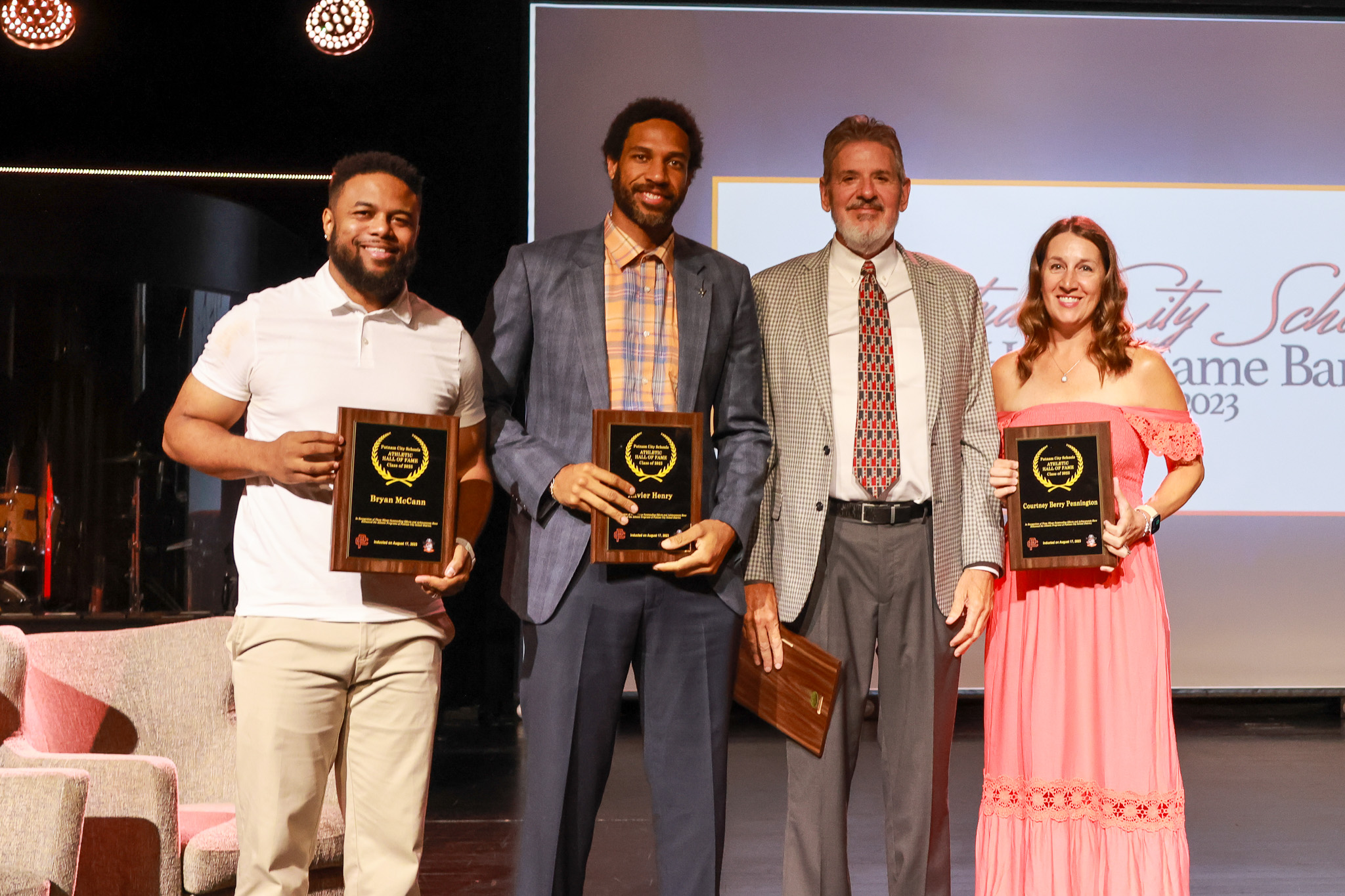 Putnam City District Athletics Hall of Fame Announces 2023 Class
An exceptional group of former athletes, teams and one coach from the three Putnam City District high schools is set to be inducted into the 2023 Putnam City Schools Athletics Hall of Fame class, the committee announced Friday
The inductees are chosen by a committee made up of administration as well as former athletes and coaches. High school, collegiate and professional accomplishments are all considered when selecting candidates.
The list of inductees in this year's class includes, from Putnam City, Xavier Henry (Basketball), Darrel Johnson (Basketball), Bryan McCann (Football/Track) and Courtney (Berry) Pennington (Basketball/Softball/Tennis). The Putnam City North inductees are Bary Holleyman (Baseball/Basketball/Football), Marla Looper (Softball), Coach Tom Pecore (Soccer) and Guard Young (Gymnastics). Inductees from Putnam City West include Jerry Arnold (Football), Ted Ledbetter (Baseball/Basketball), Erin (Newkirk) Workman (Basketball/Softball) and Brad Norman (Baseball/Football).
Additionally, the District will be honoring three historic and accomplished teams. The first three teams to be inducted into the Putnam City Athletic Hall of Fame will be the 1937 State Champion Putnam City Baseball Team, 1945 State Champion Putnam City Baseball Team and the undefeated, State Champion Putnam City Basketball Team from the 1971-72 Season.
Xavier Henry was a two-time State Champion on the hardwood for the Pirates, winning one as a Freshman in 2006 and another as a Senior in 2009. He was selected to the Daily Oklahoman's Super Five First Team three times and was the State Player of the Year as a Senior. Henry was also a McDonald's All-American that same season. He signed with the University of Kansas where he promptly set a Freshman Debut Record by scoring 27 points in his first game as a Jayhawk. He was selected to the All-Big 12 Newcomer team and finished the 2009-10 season #5 All-Time for scoring in a single season at Kansas. He was drafted in the first round by the Memphis Grizzlies and played five seasons in the NBA for Memphis, New Orleans and the Los Angeles Lakers.
Darrel Johnson won two NAIA National Basketball Championships at Oklahoma City University as a Head Coach with a record of 73-3 in his tenure with OCU. Before that, he was a First Team All-State selection on the court for Putnam City who also played in the Faith 7 All-Star Game. Johnson helped lead the Pirates to an undefeated State Championship his Junior year. He lettered three seasons playing for the University of Tulsa before playing one year of professional basketball in Europe. In addition to his coaching success at OCU, he also served as Head Coach at Oklahoma Baptist & Baylor as well as an Assistant Coach at Oklahoma State. Later, he became an NBA Scout for the Charlotte Bobcats (now Hornets) organization.
A broken leg early in Bryan McCann's Senior season kept him from playing his entire final year of high school football. However, after healing up, he managed to win the State Championship in the 100-meter dash. He was also selected to play in the Oil Bowl All-Star Game vs. the Texas All-Stars. SMU signed him to a football scholarship and he had a great career for the Mustangs. A four-year letterman, he was on the All-Conference USA Freshman Team and then earned All-Conference USA honors as a Senior. The Dallas Cowboys signed him after his college career and he had a four-year NFL run with them, the Raiders, Ravens, Dolphins & Cardinals. In 2010, he intercepted Eli Manning and took it 101 yards for a touchdown. The next week, he had a 97-yard punt return for a touchdown. He is the only rookie in NFL history to have 95+ yard touchdowns in back-to-back games.
Courtney (Berry) Pennington is the first female Putnam City Pirate to be inducted into the Hall of Fame. As a Pirate, Courtney never rested. Arguably the best girls' basketball player in school history, she was a two-time All-State selection. She was also an All-State selection on the Softball field. She was a State-Runner Up in Basketball as a Senior and in Softball as a Junior. Pennington also earned All-City Tennis recognition. She signed with Women's Basketball power at the time, Southern Nazarene and helped lead them to a National Championship as a Freshman. She then transferred to Central Oklahoma where she was a three-time All-Conference selection and is in the UCO Athletic Hall of Fame.
Bary Holleyman was another athlete that never took any time off. On the football field for Putnam City North, he was a First Team All-State selection that was also named the All-City Player of the Year as a Senior. Holleyman was the Defensive MVP of the Oil Bowl All-Star game. He also earned All-State recognition on the Basketball court for the Panthers, the #1 team in the State for much of his Senior season. Bary was recognized with All-State mention on the Baseball diamond as well. He signed with the Oklahoma Sooners to play football where he was a starter on the defensive line and a four-year letterman. Bary was a key player on OU's 2000 National Championship team. He signed with the Pittsburgh Steelers out of college and also spent time with the Rams and in NFL Europe.
Putnam City North has had many highly decorated Softball players in school history. Marla Looper is the first to find her way to the Hall of Fame. An All-State selection as a Senior, she signed with Crowder Junior College. She was an All-American in both of her seasons there and led her team to a National Runner-Up finish both years. Looper then signed with Florida State, where she twice earned All-American recognition for the Seminoles. The ACC released an All-Time Top 50 Players team in 2003 which Marla was on. She was inducted into the National Junior College Athletic Association Hall of Fame in 2006. After her playing career, Looper coached for many years, including serving as Head Coach at the University of Iowa from 2011-2018.
Tom Pecore was the Head Soccer Coach for the Putnam City North Boys' Soccer team for 18 seasons. In that time, he took the Panthers to 16 State Tournaments. He was a three-time NSCAA Large School All-American Coach of the Year in addition to serving as Head Coach of the All-State Team four times. He took the Panthers to the State Finals twice, coming as close to the title as a penalty shoot-out one of those seasons. Pecore coached three players to the All-City Player of the Year Award and had 27 players selected for the All-State game. He also won the 2008 Positive Coaching Association National Double Goal Coach of the Year award.
Guard Young did not participate in an OSSAA sanctioned sport for Putnam City North, but the Panther graduate is still one of the best athletes in school history. He was a two-time NCAA National Champion on the Vault for the BYU Gymnastics team and earned All-American honors six times over his career. He was a member of the United States Silver Medalist Men's Gymnastics Team at the 2004 Olympic Games in Athens, making him the only Olympian in Putnam City District History. He was inducted into the BYU Athletic Hall of Fame in 2010. Since his competition days, he has served as a coach. As an Assistant Coach at the University of Oklahoma, he helped the Sooners Men's Team win four NCAA National Championships. He became the BYU Women's Head Coach in 2015.
The late Jerry Arnold was a great lineman for the Putnam City West football team. A First Team All-State Selection, Arnold continued his career at the University of Oklahoma. As a Sooner, he was a three-year letterwinner who earned First Team All-Big 8 honors in 1974. That same year, the Sooners won the National Championship. Jerry was selected to play in the Senior Bowl, the most prestigious All-Star game in college football. As a result of his performance on the field, he was drafted by the Denver Broncos. When Arnold passed in 2020, Dean Blevins said "He was a really, really good college tackle. Jerry as a football player was very strong and in terrific shape. He was a leader. Just an engaging personality, but had a motor that would go, go, go, just like several other of those guys up front that had great work ethics."
Ted Ledbetter is no stranger to Halls of Fame. The Putnam West Baseball standout is in both the Oklahoma City University Athletics Hall of Fame and the NAIA Hall of Fame. He received All-State mention in Baseball twice and in Basketball three times while playing for the Patriots. He played Baseball at Kansas and Oklahoma State before establishing himself as one of the best in OCU history. Ledbetter was a two-time All-American for the Stars and was the NAIA National Player of the Year in 2004. He earned these honors while leading OCU to National Runner-Up finishes both seasons. Ted was also a First Team Academic All-American while playing. He was drafted by the Florida Marlins and played professionally in their organization.
Erin (Newkirk) Workman was a two-sport standout at Putnam City West. She was an All-State Selection for the Patriots in both Basketball and Softball. Workman helped lead the Softball team to a State Championship as a Junior. She continued her Softball career at Texas A&M where she was a star. A First-Team All-Region selection in 1988, Workman helped lead her team to an NCAA National Championship in 1987, a Runner-Up finish in 1986 and a fifth-place finish in 1988. She lettered four seasons for the Aggies and led the team in Total Bases, Slugging Percentage, Home Runs, Hits, Average, RBI's and Doubles as a Senior. She led the team in Home Runs & Triples as a Junior.
Another two-sport standout for Putnam City West was Brad Norman. The 1990 graduate was a First-Team All-State selection on the Football field as a Senior where he set 11 school records. He graduated as the All-Time leading rusher in school history with 4,189 yards over three seasons. He also scored 51 touchdowns. He received All-City recognition all three seasons as a Patriot. On the Baseball diamond, he also received All-City mention all three seasons at West, earning All-State mention twice. He played Football after high school at Malone College where he was recognized as an All-Conference player in 1995 and 1996.
The 1937 Putnam City Baseball team is the first team in district history to win a state championship. The Pirates defeated Hollis to win the Class B state title in the 33rd annual Oklahoma Interscholastic Championships held at the University of Oklahoma. Bert Fern pitched a complete game shutout, allowing only 3 hits and striking out 12. Then, in the bottom of the 9th inning, he singled and drove in Tag Kimberling for a walk-off, 1-0 victory.
The 1945 Pirates Baseball team picked up the second state championship in school & district history by defeating Oklahoma City Central 4-3 in the championship game held at OU. The team was led by Junior John Tabor, who became a two-sport All-Stater the next year, Junior Pat Sughru, who was an All-State Baseball player the next season and Sophomore Marion Miller, who became an All-State Baseball player as a Senior. The team was Coached by Forrest "Mutt" Herring.
The only undefeated, State Champion basketball team in the District's history is the 1971-72 Putnam City Pirates. The Pirates brought home the first Basketball State Title to Putnam City by going a perfect 26-0. They defeated Lawton 83-69 in the State Championship game. Putnam City Hall of Famers Alvan Adams and Darrel Johnson were members of the team along with Don Lacy & Jim Wooldridge. Adams and Lacy were Seniors. Adams would go on to a stellar NBA career that saw him named Rookie of the Year. Lacy received All-State mention. Johnson was a Junior that eventually received All-State honors and became a successful college coach. Wooldridge was a Junior that played in the Faith 7 All-Star game as a Senior and also became a successful college coach. The team was coached by Jim Koch, member of the Oklahoma Coaches Association Hall of Fame and the Oklahoma Basketball Coaches Association Hall of Fame.